Thank you for taking time out of your busy day to read our blog. I would like to take this opportunity to tell you a bit about Kahler Property Management, or KPM.
We are the leading (so we think) property management company in the beautiful Black Hills. We have knowledge of and experience managing all types of rentals including:
Single Family
Duplex/Triplex
Small Multi-Family
Multi-Family Complex HOA
Self-Storage Facilities
Mobile Home Parks
Commercial Office/Retail Space
We are an office of seven women... yes, I said seven women (we even get along…most of the time). We work hard and enjoy each other's company. The occasional nerf gun fight keeps stress and attitudes in check. Keep reading for an intro to the people that make up Team KPM. I will not bore you with all of our achievements... you can check our website ( www.kahlerpm.com ) to read those.
Meet Team KPM
Tracy – Licensed Property Manager
Tracy has been the property manager for KPM since 1984. Her faith guides and defines her life... in and out of the office. Tracy spends her free time singing, traveling to warmer climates and being in nature. Tracy has a love for all animals and will talk to, hold and pet any that will let her. She wishes she had chosen a career field that would allow her to work in an animal sanctuary but settles for keeping the rest of us in line. For the time being, Tracy and her husband's home life revolves around a nine month old Balinese kitten names Simeon. He is the craziest, most needy little guy ever but they love him to the moon and back. Look for Simeon stories in the future.
Erin – Assistant Licensed Property Manager
I have been with KPM since 2005. I have 2 beautiful children…3 if you count my husband. Between our home remodel, running Littles to soccer, scouts and basketball; I enjoy cooking, crafting and reading a good book. I also have an unhealthy obsession with Pinterest or, as my Husband calls it, his "honey do" list.
Debby – Accounting
Debby has been with us since 1987. She is heavily involved with the Special Olympics and is a skilled bowler. She organizes and teaches a youth bowling league and bowls at a state level. Debby adores her 3 grandchildren and spends as much time with them as possible. She is also the only one in the office that does not like cheese…we will not hold it against her but will tease her unmercifully.
Kathy – Maintenance Coordinator
Kathy joined our team in the fall of 2013. All of her extra time and money has gone to the dogs…Literally. Her 3 dogs train and compete in Obedience, Rally, Canine Freestyle, and Tricks. She and her dogs have titles from the American Kennel Club in Rally, Obedience, Tricks and Therapy Dog Work. Her dogs are most certainly better trained than my children. When she gets an opportunity, Kathy, loves camping... with her dogs.
Ally – Assistant Maintenance Coordinator
Ally became a member of our team in February of 2015. She spends most of her free time with her 3 kiddos. After they are tucked in she enjoys binging on her favorite shows and engaging in "marriage counseling" by playing Call of Duty with her husband. During the warm months, Ally enjoys landscaping and target practice. She cannot resist a big bowl of Fruity Pebbles.
Candace – Administrative Assistant
Candace joined the team in 2016. She loves spending time with her family, listening to music, playing games, camping and playing with their pets. She is always quick to throw a movie quote or music lyric into any conversation. The sound of her 4 children laughing is the highlight of her life. Candace likes to dabble in photography and she will never say no to Italian food.
Alana – Administrative Assistant
Alana is the newest member of Team KPM and joined us in 2017. She is originally from Pierre, SD and moved to Rapid City to pursue her education in Business Management and Marketing. She has a 5 month old son that keeps her on her toes. When, and if, she ever recovers from the sleep deprivation of a baby she would like to continue with her hobbies of hiking, fishing, traveling and playing her guitar.
We hope you stick around and get to know more about our company and industry. Drop a note if there is a specific topic that interests you!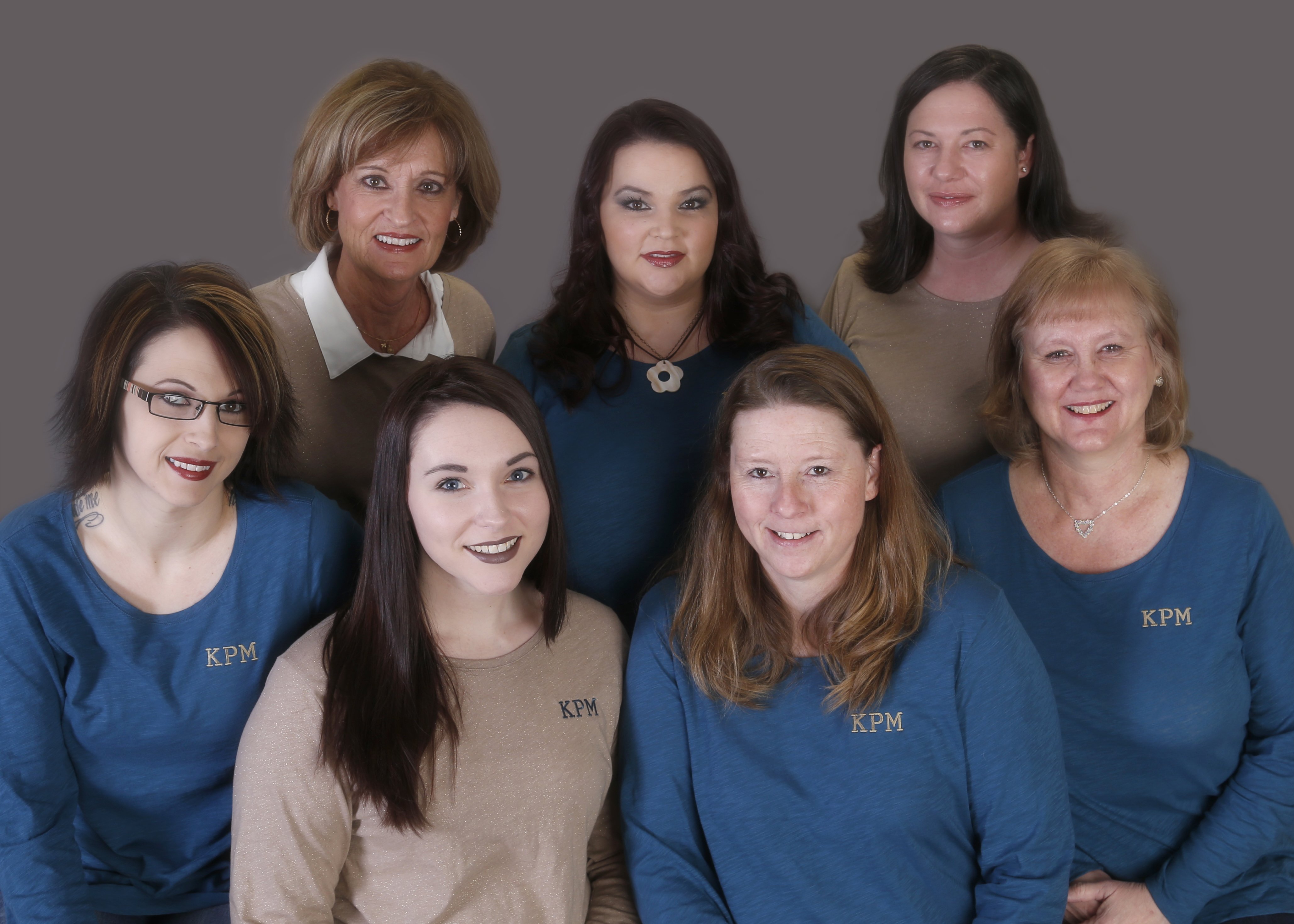 Tracy, Candace, Erin, Ally, Alana, Kathy, Debbie