In order to fill your vacancy you need to concentrate on effectively marketing the property.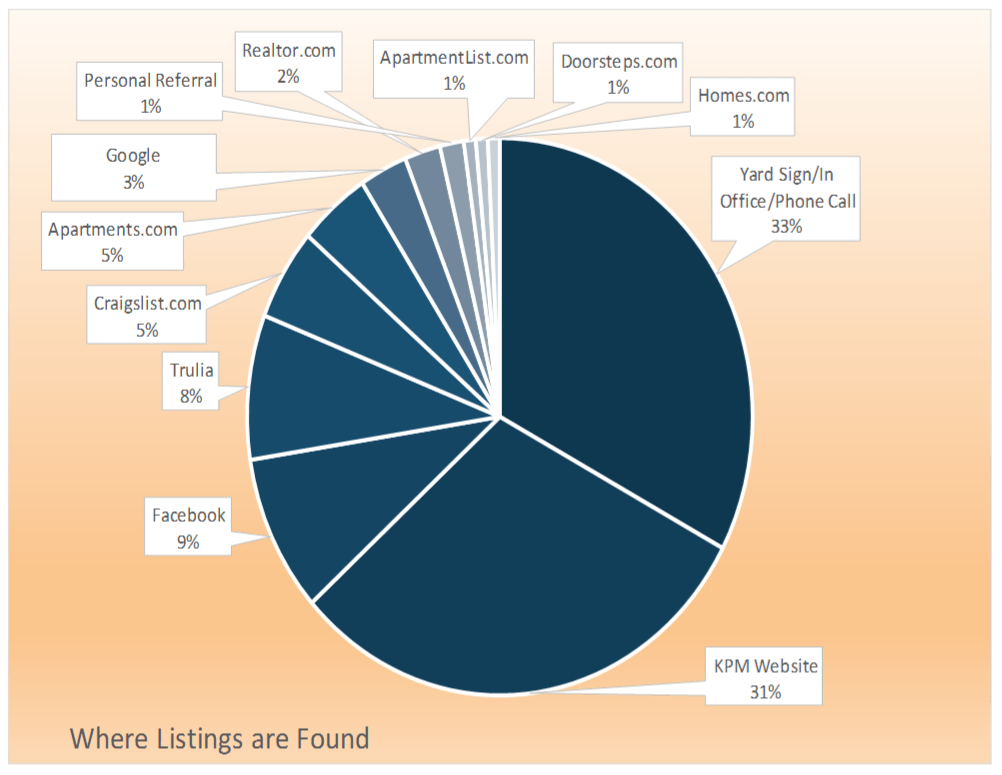 The graph above depicts where people find our listings, as a result, scheduling a showing. We ask each prospect where they found us. You can see the internet is a very powerful marketing tool. The old standby methods like yard signs and personal referrals are still especially important. Furthermore, because of our name and reputation we are most often the first contact.
We work hard to ensure that your home is located at the forefront when it comes to the search for a rental home in the area. We continue to improve our marketing strategy as new technology becomes available.
Yard Sign: Yard signs are an especially relevant part of marketing your property. People see a sign resulting in a call for more information. Neighbors pass on information to their friends resulting in a call for a showing.
Craig's List: KPM runs an advertisement for all available rentals on Craig's List. Listings are updated often to guarantee each listing is located at the top of the page.
Paper Listing: Paper listings are available in our office and are mailed to numerous businesses and organizations in the Rapid City area. This is done once a week.
Online: Additionally, we will list your home on our website.
Our website syndicates listings to over 50 websites giving your property maximum exposure.
Finally, a few of the websites where our listings are found:
| | | |
| --- | --- | --- |
| Abodo.com | Apartmentlist.com | Callithome.com |
| Homefinder.com | Hotpads.com | zillow.com |
| Locanto.com | Placebee.com | Rentalads.com |
| Apartment.com | Homehippo.com | Rentjungle.com |
| Trovits.com | Houserentals.com | Livelovely.com |
| Rentmls.com | Trulia.com | Zumper.com |
| Apartmenthunterz.com | Everyrent.com | Homes.com |
| Housingblock.com | Realtor.com | Renthop.com |
| Rentnice.com | Walkscore.com | |